FOG Update – Part 2
Looking to install FOG 1.2.0 from scratch? Check out my more updated post.
Yesterday was mostly spent backing up the original FOG installation just in case this all goes horribly wrong (we do actually need to use this server, after all). This was taking absolutely forever, so I gave up and only backed up the server minus the images that I made over the last year or so (except the default one we are currently using). Plus, I wanted to actually get on and install this thing this week! I headed over to pendrivelinux.com and downloaded a cool piece of software that allowed me to install Linux to a USB stick to boot from. Absolutely fine, except the Dell PowerEdge 2950 server I was using doesn't seem to do absolutely anything when I put the pendrive in. It just refuses to boot from it and, even after messing with the partition table, it eventually gave up and said invalid operating system.Plan B today, therefore, was to put in a CD (from an external CD drive). This worked fine and after a few reinstalls (the first time I messed up the RAID configuration and the second time I forgot to add a user or set a password for root), everything else has so far gone fine. It is a very barebone linux system – the only two things I did was to upgrade/update the system and packages and to install ssh for remote access from my office (its a lovely cold room, but I can't spent all day up there. Well, on a hot day, I very well could..).
The next phase is to install FOG using this guide [edit: you may want to use this guide instead]. It seems to be one of the most unbelievably straight-forward processes – although the network has already been setup for our FOG server already. Except that, now, it seems that the original pxelinux.0 has now become undionly.kpxe. pxelinux.0 was the bootfile that is specified in some DHCP environments' option 67 setting. The three switches that I set up to support our networking labs have this set, meaning now I will probably have to change it at some point. I'll writeup about that next time, or perhaps it will just work. The FOG community will know, either way (and for anyone who is thinking of using FOG, it has a very active and helpful forum). Finally, after all of the LAMP stuff had been set up, I was told to go to the web management page. Luckily, as the IP and hostname are all the same still, I just had to open my browser and navigate to my FOG page tab.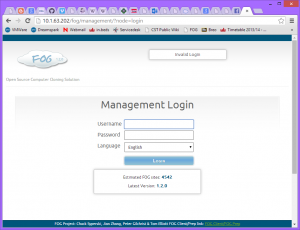 New FOG! Yay!
So first impressions are that this is great – actually installing a server from scratch and putting FOG onto it took perhaps a couple of hours tops (including burning a CD and downloading Ubuntu 14). It looks very much like 0.32 looked, so I know where everything is.

I still had a tab open from earlier today, when the server was still running. Useful, as I can just copy-paste all of the settings from one tab to the other 
Configuration from now on can be done through the browser for the most part. The settings look pretty much the same as 0.32 looked – although, sneaked in, is the option to donate CPU time to mine cryptocurrency for FOG donations. Kind of inefficient to be honest – the power and heat consumption will cost far more than you would save by donating probably half as much in cash, with Bitcoin's current difficulty rate. But its a nice idea; especially as, at the time of writing, there are supposedly ~4500 FOG servers – and each one could have many hundred hosts all performing mining tasks.
Configuration aside, there is just one problem now – the FOG database. Everything is gone – all registered hosts and groups. To be honest, this isn't really too big an issue as I think it is probably time to go around and inventory our computers again. There are several computers that have been moved, changed or that we don't use anymore – plus it gives us a chance to check out every computer manually and verify that network/video/keyboard connectivity works.
So that was quite easy – so far – the next step is to test out what happens with network booting (and IT services are the ones that are in control of the majority of the network infrastructure here and therefore are the ones who set the DHCP options). Stay tuned! (like anyone is reading at this point!)
Edit 12/09 – You can also go ahead and delete /var/www/html/index.html which will then cause index.php to be loaded, thus redirecting you automatically to the fog/management page.